What Should Your New Employee Orientation Cover ?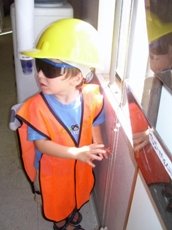 Well your new employee orientation is going to vary depending on your company.
The thing to remember is that this is a great time for them to get to know you and you getting to know them.
On some construction work sites I have been on,the orientation is just like going through a cattle gate.
Get them in then get them out to work as quick as possible. Anymore this is a really risky way of doing business.
It not only puts the worker at risk. If he gets hurt it can put your business at risk. Remember the worker has to be informed of the hazards before he goes to work.
A Orientation Checklist
One of the best ways to ensure that you have covered all the information in your new employee orientation is with a checklist.
Just to get you off on the right track here are a few idea's. Start with ....

General Information
Tell the workers about your company.

What your companies safety policy is.
For example:Our company has a Zero Injury policy. We believe all injuries can be prevented.
Let your workers know where they can find your Company Safety Manual.
What is your company enforcement policy. Written, Verbal and then Dismissal?
Do you have a Drug and Alcohol Policy?
Along with other general company rules.
Regulations
Here is where you cover things like...
Worker responsibilities. ( Under Law)
Employer responsibilities. ( Under Law)
Safety regulations and acts
Injury reporting and things like a working alone policy.
This is just to name a few.Then
How You Handle Hazards
Inform your worker about on the job hazard reporting.
How you access hazards, what tool do you use?
For example:Job Safety analysis,Field Level Hazard Assessment cards.
Then what controls do you put in place to take care of the risks.
Other Items
Here are some other items that you may want to cover.
Personal Protective Equipment or PPE
Safe Work Practices or Procedures
Your Emergency Response System
Communication - Safety meetings, Tool Box meetings etc.
Reporting Requirements - Near Miss Reports, Injuries, Damage.
Now that you have an idea of what you should cover.
You can see that it can take a lot of work to create your new employee orientation.
So Where Do I Go From Here?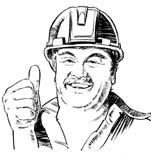 Well the good news is that if you would like a few examples of orientation check lists that I have.
All you have to do is go to our Contact Us page and ask for the orientation check list and we will get it off to you as soon as possible.
You can also get a checklist at Microsoft's website.
One of the most affordable ways to do a presentation is by using a Power Point presentation that you make up yourself.
If you use the link above it not only has an orientation check list but also a template for your presentation.
Here are a few more options that are open to you. Again it will depend on the size of your company and how much you want to spend...
1. Hire someone to build you a New Employee Orientation
In most places you can find Safety Professionals who can help.Be sure to check with different ones as prices may vary quite a bit at times.
2.Buy an online kit
I have seen some kits starting out at about $139.00 and they go up from there.
3. How about Video
I bet this option sounds expensive.If you have someone else create it for you it can be.
Although it doesn't have to be. You can use your own video recorder and do the presentation yourself. It is just a matter looking into the camera and reading a script.
Remember
A good new employee orientation will get your workers off to the right start. It shows not only what is expected of them but it also shows your commitment to your business.
Some other things to remember is ...
Keep records of orientations
Have a test and see if everything was understood.
Have good interaction between yourself and the workers.
Ask questions of them and have them ask you questions.
Keep on improving your orientation and ask for feedback.
It is all about first impressions make their first day a memorable one.
If they come away from your orientation with workplace safety in mind you are on the right track.
As more information and resources become available I will keep on adding them to this web site. So be sure to keep on checking back.
---
New Employee Orientation Top Of Page
---