Ask The Experts
Going to the experts is one thing that I firmly believe in.
The information that you receive is only as good as the source that you get it from.
This is why I have decided to start this section for you.As this section grows I am hoping to get in put from experts from all over the world so that you can find the right person closest to where you live.

This is a place where you can come and ask questions from people who are specialists in thier field.
I am hoping to have as wide a variety of people as possible so if you have run across someone that you would like to see in this section be sure to drop me a line.

---
Prescription Safety Glasses Specialist
(CANADA)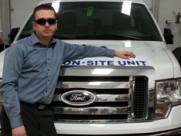 The first Expert that I would like to introduce you to is C.J Smith. C.J has a business located in Edmonton Alberta.
At present his company Pro Optical Safety Rx Eyewear is supplying and educating many of the oil and construction companies here in Alberta and spreading across Canada with prescription safety glasses.
This subject is near and dear to me as over the years I had to wear glasses and it has always been an issue of getting the right safety glasses.

After talking with C.J. I knew I would like to have him here as a resource for you. So if you have any questions be sure to visit his website or send him an e-mail at cj.smith@proopticalsafetyrx.com 

When it comes to perscription safety glasses he is the person you definitley need to talk to before you spend a cent.

---
---
---